Marley 915mm Menara Pengisian Menara Pendingin
• Manajemen udara / air superior untuk kinerja termal tinggi
• Direkayasa [herringbone "permukaan (kiri) untuk pemerataan air
• Sarang lebah berikat tepi pada lubang udara dan outlet
• Interlocking offset mengatur ruang lembaran dan membentuk paket yang cukup kuat untuk ditumpuk satu di atas yang lain di menara dengan ketinggian lebih dari 10 ft (3050 mm).
• Bawah didukung untuk daya tahan dan kemudahan instalasi
Packing: Cooling tower fill dikemas dengan PE belt + wodden pallet atau Woddern crate.
CF915 / 1220/1520
adalah film gantung tipe cooling cooling fill yang menyebarkan air ke dalam film tipis, mengalir di atas permukaan vertikal yang besar, mempromosikan paparan maksimum terhadap aliran udara. Jenis pengisian ini memberikan lebih banyak paparan permukaan air per kaki kubik daripada mengisi jenis percikan.
Ini mengisi hampir menghilangkan gangguan yang disebabkan oleh bercak drift pada bangunan dan properti yang berdekatan. Untuk penghematan tambahan, eliminator drift melepaskan udara langsung ke arah kipas. Udara buangan, bergerak ke arah yang benar ketika meninggalkan eliminator, diterjemahkan ke horsepower kipas yang lebih rendah.
Louver juga dicetak secara integral di dalam lembaran pengisi yang mencegah air keluar dan memastikan distribusi udara yang tepat di seluruh variasi aliran udara. Tidak seperti menara yang dilengkapi dengan kisi-kisi eksternal terpisah, pengisian ini beroperasi hampir bebas es bahkan dalam cuaca yang sangat dingin.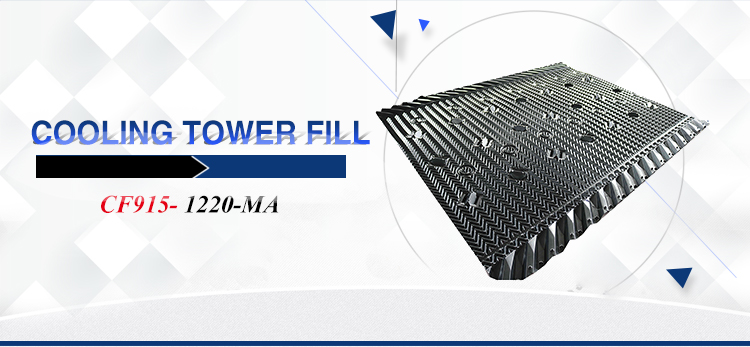 Spesifikasi
Pengisian Menara Pendingin
:
| | |
| --- | --- |
| Name | Marley 915mm Cooling Tower Fill Media |
| Type | Cross Flow Cooling Tower Packing |
| Material | Virgin PVC PP |
| Usage | For cooling tower to cooling the water |
| Width | 915mm, 1220mm, 1520mm |
| Length | Any length as your request |
| Thickness | 0.28mm-0.38mm |
| Sheet Space | 20mm |
Suhu aplikasi: 75 ° C ~ 35 ° C
Ruang lingkup aplikasi: menara pendingin cross-flow persegi

Produk-produk terkait:
Bagian Menara Pendingin: pengisian menara pendingin, cooling tower spray nozzle, menara pendingin louver inlet udara, menara pendingin drift eliminator.
Produk Pengolahan Air: tabung pemukim, tangki air, bola bio, media MBBR, diffuser gelembung halus ...
Kategori Produk : Bagian Menara Pendingin > Isi Menara Pendingin